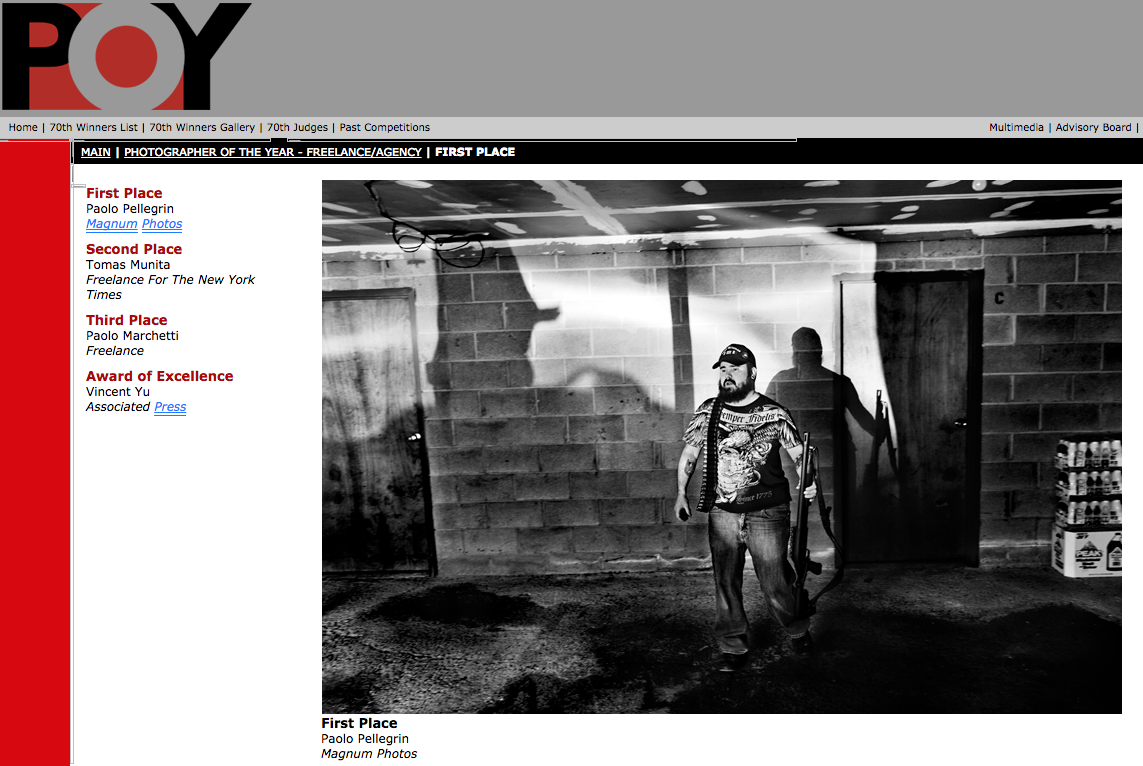 ROCHESTER, NEW YORK, UNITED STATES
2012
PHOTO BY PAOLO PELLEGRIN
REPRESENTATION:
This photo from a photo essay by Paolo Pellegrin called "The Crescent. Rochester, USA." It won awards in World Press Photo
(WPP) and Picture of the Year International (POYi) in 2013. The information for the series on WPP's site is: "The group of deprived neighborhoods known as the 'Crescent', around the northern edge of downtown Rochester, New York State, USA, is renowned for its high crime and murder rates."
The caption originally published with this photo on WPP's site (it has since changed) read: "A former US Marine corp sniper with his weapon. Rochester, NY. USA 2012."
REALITY:
The photo was not taken in the Crescent neighborhood, as the photographer claimed. The photo's subject, Shane Keller, reached out to the press, stating "I was never a sniper and I would have never said that" and that he "lived in a very safe neighborhood" that was not part of the Crescent.
The photo was also staged, a fact not divulged in the caption. Keller questioned Paolo Pellegrin's ethics by requesting to visit a shooting range. He also found it strange that Pellegrin refused additional information about Keller - like his name.
Pellegrin stood by the pictures. He said "I don't understand what the big controversy is about...I forgot his name...What I remember was that he was a former soldier." Pellegrin also claims that the information for the project was submitted by an assistant and was never intended to be published.
Both World Press Photo and Picture of the Year upheld the photographer's awards. WPP released the following statement about their decision: "The jury is of the opinion that...[it] was not fundamentally mislead by the picture in the story or the caption that was included with it."
 
"Rick Shaw, director of POYi, said in a statement that his organization "respects the integrity of all the photojournalists" and "will not presume any lapse of ethics or review any situation until we get a position statement from the photographer and review all the allegations."
- The New York Times Lens Blog, "A Prize-Winning Ethics Lesson?"

Learn more:

Image copyright Paolo Pellegrin