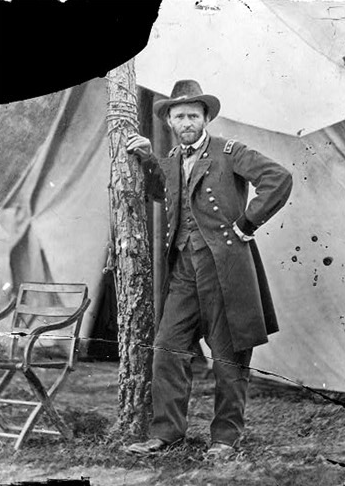 CITY POINT, VIRGINIA, UNITED STATES
CIRCA 1902
PHOTO BY LEVIN C. HANDY
REPRESENTATION:
General Ulysses S. Grant sits atop his horse before his troops in City Point, Virginia, during the American Civil War.
REALITY:
This image is a composite of three different photographs, all taken in 1864. In addition, the copyright year of this photo, 1902, is long after the Civil War's end.
Levin C. Handy was the nephew and apprentice of Matthew Brady, a photographer known for his Civil War work, allowing Handy access to all of Brady's Civil War negatives.
In this composite, Grant's head was spliced from a 1864 portrait by Edgar Guy Fowx. The body and horse in this image were taken from a portrait of Major General Alexander McDowell McCook in Washington D.C. The background, supposedly featuring Grant's troops, was taken from a photo of Confederate prisoners captured during the battle of Fisher's Hill in Virginia.

Learn more:
Image copyright Levin C. Handy / Library of Congress